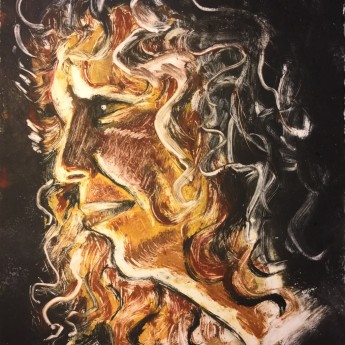 Location: Belgrave, Vic, Australia
Artist Group/s: 2D Fine Art
Themes: Landscapes, People/Portraits, Nature, Adventure/Travel
Medium: Printmaking
Awards:
2013: Joined Print Council of Australia, and was selected as one of ten commissioned printmakers for that year
2014: Selected as finalist in Swan Hill print awards
2016: Finalist in Bellarine print prize
2018: Finalist in 'Inkmasters' award Cairns
2019: Finalist in Burnie Print Prize
2020: Selected as finalist in FOOTPRINT International Competition 2020 to be held at the Center for Contemporary Printmaking in Norwalk, Connecticut, United States of America
Solo Exhibitions:
'Forests' solo exhibition at Printmaker gallery Fitzroy, 2020.
Group Exhibitions:
2014: Exhibited in the Adelaide Fringe ( two person show ) with a series based on travelling outback Australia 'Western Loop Series'
2015: Exhibited at Limerence boutique gallery in Belgrave ( two person show ) with a series based on travels in Europe 'Washing in Europe'
Participated in 'Impressions Exhibition' at Australian Print Workshop.
Exhibited and participated in Burrinja Open Studio exhibition and Open Studio weekend.
2016: 'ICONIC' - group exhibition at Burrinja
Swan Hill Acquisitive Print and Drawing Award finalist
Participant in 'Immerse' Knox - 30 exhibitions in 30 days
Participant in 'Impressions' group exhibition at APW.
2017: 'New Territory' –2 person exhibition at East Gippsland Art gallery with Robert Logie
Participant 'Peculiar Portraits' group exhibition in Fitzroy, March 2017
'Duality' – Burrinja Open Studio group exhibition
Participated in ' Climate Change Biennale' exhibition at Burrinja. in 'The Forest' + Participant in 'Forests' group exhibition at The Printmaker Gallery, Fitzroy.
2018: What Lies Beneath' Burrinja Open Studios group exhibition
Participant in the 'Impressions' exhibition at APW
2019: Participant in Editions Exhibition at Tacit gallery 2019: Participant in Editions Exhibition at Tacit gallery
Chris Lawry has been creating traditional lino, woodcut prints and monotype prints since late 2009. She knows this exactly because it was a Parisienne artists markets entirely devoted to printmaking that inspired her to change her artistic direction. Previously she had been a part time painter and part time teacher. Her prints are traditionally printed by hand on an etching press - between metal rollers, or by rubbing the back of the printing paper over the hand carved block with a wooden spoon or burin. The wooden spoon is necessary for large prints which do not fit the printing press, or have a lot of very fine detail. The blocks themselves can take anywhere from a day, to several weeks, to cut. The prints are made on archival Italian or Japanese paper which is purpose made for printing – except where she uses old pages of books as part of an interesting collage element.
A small note to anyone buying my work. I keep a scrupulous record of the editions, but don't always sell them in order. If you buy one I will offer the copy I think is best at the time.